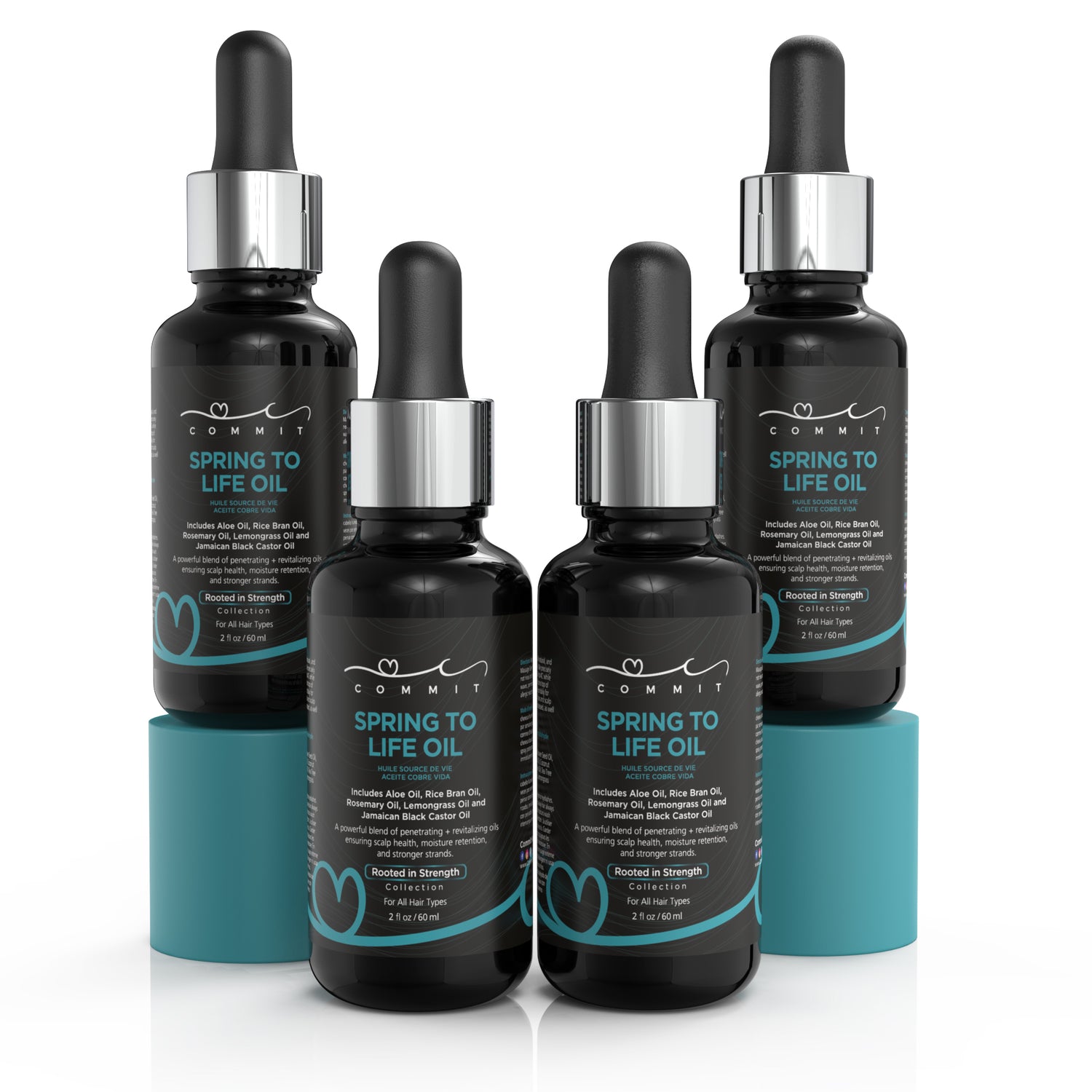 Spring To Life Oil
A powerful blend of penetrating + revitalizing oils ensuring scalp health, moisture retention, and stronger strands. This multi use hair and scalp oil is an unmatched blend of hero ingredients for every natural hair care regimen. Use daily or weekly to regenerate healthy hair follicles for unmatched hair growth, increased softness, shine and manageability. Including Aloe Oil, Rice Bran Oil, Rosemary Oil, Lemongrass Oil and Jamaican Black Castor Oil. 
Purchase Now
The Commit Haircare Products Standard
Each and every Commit Haircare product is specifically crafted and formulated to provide naturally curly, coily, kinky and wavy hair textures with moisturizing, conditioning and cleansing excellence to support healthy, flourishing, beautiful natural hair.

Commit Haircare believes that healthy ingredients encourage healthier hair. We're constantly pushing ourselves to innovate and bring you better, safer products. We offer a comprehensive methodology along with outstanding products that can easily be added to your natural haircare regimen.
About Commit Haircare !
At Commit Haircare, our ingredients are safe, all-natural, and gentle enough to be used by your entire family. We precisely formulate our products for natural hair types 3A to 4C while ensuring that we keep troublesome scalp conditions top of mind.
WHAT PEOPLE ARE SAYING
This oil was an entire life saver. I was losing my edges from constantly wearing a high puff. I started seeing a difference within a month. I was a first time user and had the pleasure of being a trial participant, but Im DEFINITELY a customer now.

Naja M.

Heaven in a bottle. Post pregnancy my hair felt very dry and brittle. I also experienced a ton of postpartum shedding in the crown area of my head. This helped tremendously. It not only leaves my hair so soft, but also has a great shine.

Faith K.

I was included in the trial users and let me tell you! I massaged my scalp and temples every two nights with this for two months and theres no going back. I refuse to use any other oil on my hair and scalp ever again. I need more products from this brand! It also has a very soft scent that I love.

Lavette T.